It was an extremely difficult task to pick the best out of our portfolio of fantastic stay options, so we let the travelers decide. We bring to you the top stay options of 2016 that you can include in your 2017 getaway wishlist!
1. Two Chimneys, Nainital, Uttrakhand
Two Chimneys is not your typical Hotel, but a home away from home. Built over a century ago, Two Chimneys is an Enid Blyton-esque stone and wood cottage owned by a family who is so good that wouldn't let you miss the comfort of your home, even for a second. With rooms like Olive, Willow Suite, Deodar, and Oak, you will it find hard to choose your escape. The room overlooks the pool and beautiful valley and yes, the first meal of the day on the wooden deck will give your day a fresh start.
Be it bird watching, serene beauty or a genial host, you certainly cannot miss on this place. It is worth every penny.
Hridesh Baweja from The Brand Weavers says, "It is one of the best properties of Nainital. They have spacious and very well appointed rooms which made our stay a comfortable one. Also, Team Qacco helped us to zero down on the property and got us the best rooms at affordable prices. They are available round the clock and make your holiday a lifetime memory."
2.Waterwoods Lodge, Kabini
Located on the bank of serene Kabini River, Waterwoods is an exceptional Jungle resort which offers you best of both the worlds. It is the first private lodge at Nagarhole National Park. This is a beautiful place to experience the solace and enjoy every single minute with your loved ones. Be it their awesome rooms or waking up to the chirping sound of birds, this place can make you fall in love with itself forever. It has plush rooms accommodated with all the modern amenities. You can dip your feet in the calm river or go for bird watching or explore the myriad activities within the place. This little haven will be all yours.
Manavendra Bhatnagar, an IT Professional, Accenture says, "We had a great time at the hotel and would love to visit again. They have a wonderful bonsai collection across the property lush greenery all over the place. We had a great time here. They serve delicious food especially, fish. To make our trip easier and comfortable, Team Qacco put in their best efforts and provided the best options according to the requirements. I am pretty sure that I will be using their services again."
3. Acron Waterfront Resort, Goa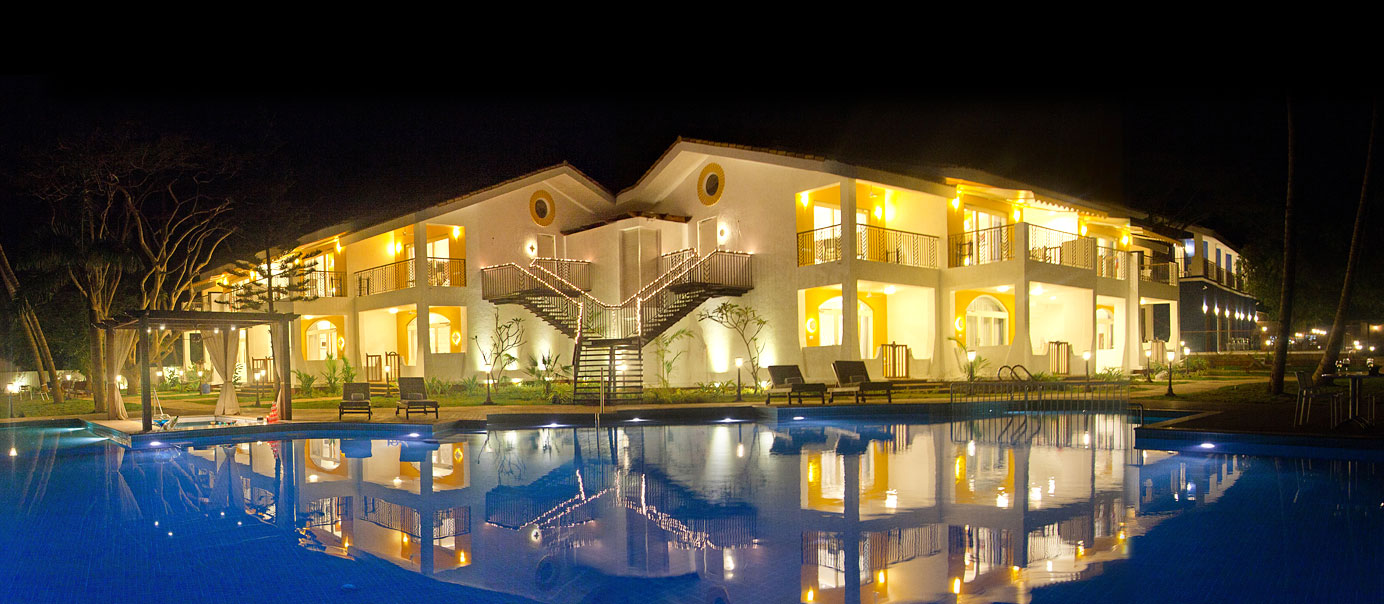 Nestled on an acre on the Banga Peninsula, there sits a beautiful Waterfront resort nurturing the nature at its best. With rooms like Sea View, River View, and Courtyard rooms, you get to experience the views that you will vividly remember for a lifetime.
The hotel features facilities like the infinity pool, jacuzzi, water sports activities and boat ride (seasonal), river deck jetty. Guests can enjoy a wide range of cuisines that include Continental, Mediterranean, European (Italian-French), Pan Asian (Chinese-Thai), Indian and Goan at the in-house multi-cuisine restaurant – The River Restaurant. If you look forward to the nightlife of Goa, this is a place to be as it near to Tito's Lane.
Aravind, HR Manager, PepsiCo says, " Acron waterfront was an unforgettable stay. Rooms with a great river view, exceptional service & great food (their breakfasts were fantastic). It is very well situated, 400 m from Baga Beach as well. Thank you so much to Team at Qacco. This is the third holiday that we are going through their portal and these guys really know to personalize travel."
4. Xandari Riverscapes, Kerala
Based on the theme of Simplicity, Xandari Riverscape is a house boat which gives you an enchanting view of Vembanad Lakes. Stay on the houseboat let you enjoy the cool breeze and tranquility of backwaters. This floating resort has houseboats based on the iconic kettuvalam rice boats of Kerala. These boats are made by using jackfruit wood tied with coconut coir and no metal joinery in order to preserve the traditional boat building culture.
It has all you want while on your holidays- sands, waves, coconut trees, breeze and exceptionally high quality served food. Do not miss the seafood.
Brunni Coeto Arce, Marketing Manager, BIC says, "I have had a wonderful experience here. Stay in a houseboat allowed us to sail through backwaters and enjoy the scenic beauty. The staff was genial and served the delicious food. Our holiday couldn't have been awesome without the team Qacco as they booked the houseboat at a fast pace and the prices offered were lower than the price mentioned anywhere else."
5. Rohet Garh, Rajasthan
From a house to one of the best Hotels in Jodhpur, Rajasthan, Rohet Garh hasn't really changed much. It has always retained its warmth and a feel of home. No building has been added in the renovation process, but rather, old edifices have been chiseled to make the property look more beautiful.
The food is served by a poolside as folk music plays on the back. The plush villa has over 34 individually rooms which are properly crafted. Manicured gardens and chirping sounds of birds add to the charm of the property.
Shruti Nischal, HR Professional, Qualcomm says, "We spent a wonderful weekend in this beautiful, tranquil heritage property. The rooms were charming and the gardens and pool just so picturesque. The staff was attentive and courteous. Despite being a heritage property, the hotel had all modern amenities including free Wi-Fi in the room & hotel grounds. We loved it and would love to return there. The team at Qacco gave us a great personal touch in planning our holiday. Their property recommendations were spot on and the team's attention to detail ensured we had a memorable and a delightful holiday. Look to them for unique holiday destinations and let them do all the planning for you. We certainly will!"
Image Courtesy: Google