What are your plans for Valentines? Is it the same as last year? Buying flowers or a ring or cliché candle light dinner! Think again! You can do a lot better.
This Valentine, whisk your sweetheart to a place which is far away from the maddening crowd and there is no one around but two of you. Escape to a place which is silent and where you can hear each other's whispers. Relax in a place which is so serene that there exists no space for the fights. Take your sweetheart to a place where you would weave endless memories and cherish them forever.
To make your Valentine picture perfect, we have jotted down some destinations. From dining in the jungle to soaking up in an open air Jacuzzi and spending quality time over the bonfire, here are some wonderful resorts to surprise your valentine.
Acron Water Front Resort, Goa
A destination wedding at Goa is everyone's dream but only a few get to live it. Even if you are not among those lucky people, you could always surprise the love of your life with a trip to Goa. Because Goa is never too old for surprises.
The first thing that would irk you is choosing a suitable resort. No worries, we will sort that out for you. Nestled on the Banga Peninsula, there sits a beautiful Waterfront resort nurturing the nature at its best. Be it sitting by your lover and watching the sunset over the Arabian Sea or catching the fishes from the river to see your bae smiling or just relaxing by the pool- whichever is your view, it is an experience you will cherish forever.
The Serai, Kabini
Love isn't just about romantic walks or exotic dinner. It is also about the adventure and excitement. And if you want to enjoy both the sides of it, then head to Kabini.
Kabini is the land of wild where birds fly and deer run unafraid and amidst all these adventures, there sits a mesmerizing resort- The Serai. If adventure excites your lover, then there nothing better exists than the Serai. Go for Jungle safari and watch tigers and deer roaming around you. Sit by the bonfire with a soft music on the background and relive all the beautiful moments spent with each other. Go cycling early morning just the way you have always watched in movies. And by then, we bet, your partner would have found hundred other reasons to be in love with you forever.
Kondai Lip, Alleppey
Spend your day on the quaint backwaters of the pristine city of Alleppey also known as Venice of India. Make lasting promises wrapped around the arms of each other as the boat slowly passes through picturesque vistas of southern India.
To make your valentine even better, choose Kondai Lip as your stay option and we bet nothing could go wrong. Run by a traditional family who has lived here for generations and possesses an Intimate knowledge of the geography and culture of the area. It is a home away from home where you can once again feel young and go back to the time when you met your better half for the first time. Walk hand in hand on the lush turf with your beloved ones as you would walk with them forever through ups and downs of life.
Fog Resort and Spa, Munnar
Perfectly manicured tea gardens sprawled beautifully over the hills of Munnar and breathtaking views make up for the most romantic destination to visit this Valentine's Day.
To make your Valentine's Day a lasting memory, head to Fog Resort and Spa. Stay at their lavish honeymoon room, Honey Moon Romantica and revive your honeymoon days.
Hotel Gulaal, Jaisalmer
How about an idea of expressing your feelings to the one you love in between the dramatic dunes of Thar Desert? Amazing!!! Jaisalmer is a city of magnificent palaces, forts, and castles but there is a quixotic side too that is equally fascinating and colorful.
A holiday can etch an everlasting pattern on your memory if you get the right hotel. And if you are visiting Jaisalmer, nothing can suffice Gulaal. Hotel Gulaal is all about old age romance. It is a grand luxury boutique haveli built on the traditional haveli architecture where you could act as a Maharaja and treat your better-half as Maharani and fulfill her wish of being a queen to a kingdom.
Fort Neemrana, Rajasthan
Forts have a fascinating appeal about them that lures in lovebirds from anywhere in the world. Fort Neemrana is one such paradise that was made for couples and is thus among the most preferred Valentine holiday destinations in India.
If you are a couple that wants some moments of solace and love with their partner, then head to Fort Neemrana. This 15th-century heritage hotel is among the most popular resorts near Delhi for weekend breaks and is ideal to fall in love with your partner all over again.
Verandah in the Forest, Matheran
If romance is in your mind, Matheran is a must visit. Remember how you wanted to see the wonders of the world together? This is one of them. Watching sunset and sunrise here together will make your bond stronger than ever.
If you are visiting Matheran, Verandah in the forest has to be your hideout. Lounge in a dream salon 12 metres/35 feet high at this resort in Matheran. Stroll down to Charlotte Lake hand in hand with your partner.
Rhythm, Lonavala
If you're a couple that gets their kicks from exploration, hiking, and trekking, Lonavala is a wondrous dugout for you. A part of the Sahyadri range, Lonavala has a beautiful mystical quality to it owing to the lovely hills and valleys around.
If your better half is a nature lover, then there exists nothing perfect than Rhythm. The property nestles between unabashed indulgence and a sense of oneness with nature amidst the imposing Sahyadri Mountains. Designed in traditional low-rise Asian-Colonial style, the luxury hotel is an epitome of elegance, providing the ultimate in style and comfort paired with tranquillity.
Serene Woods, Coorg
Lush green turf, waterfalls, bird chirping around and jaw-dropping scenic views, what more can you ask on Valentine? Go to Coorg, rejuvenate yourself in the arms of each other and you would forget all other tensions.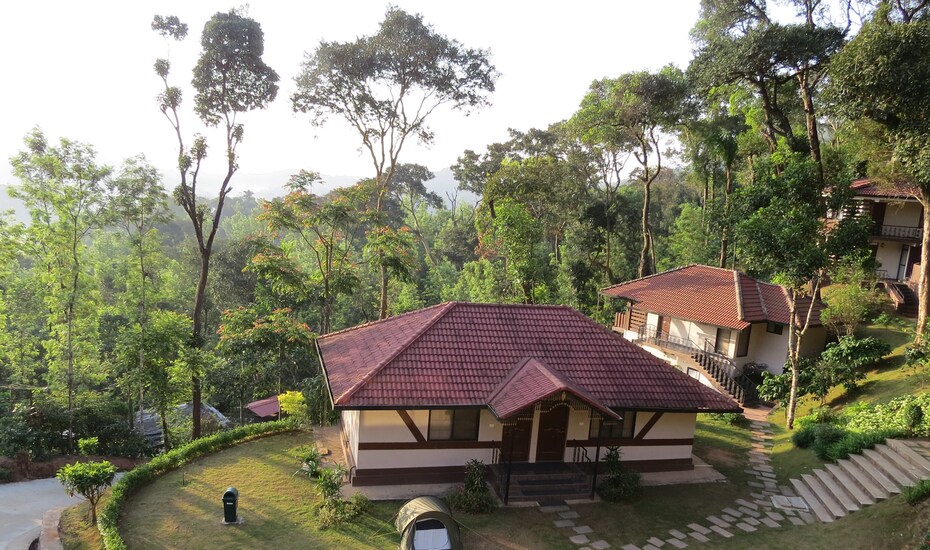 If you are searching a home away from home, then your search stops at Serene woods. Run by the very friendly Mr. Ponnappa, this place is nothing lesser than a home. Come with your spouse and feel like a home.
Kurumba Village Resort, Coonoor
Owing to the stunning views of the Western Ghats and the magnificent beauty of hills, Coonoor is perhaps the best place for couples on Valentine's Day. Enjoy the chilly winds atop this serene hill station while you cuddle up in the warmth of your partner and revel in the intimacy.
After spending a romantic evening, head to Kurumba Village Resort to relax. Walk barefoot with your partner hand in hand and say those three magical words which they want to hear from you, always. And your Valentine is a picture perfect.
---
Image Courtesy: Google