Tying a Rakhi and receiving something in return on Rakshabandhan is too mainstream. Ain't it? This year instead of repeating the monotonous rituals, why not take a sibling trip to relieve and rebuild the sibling bond that got lost while growing up.
After all, your siblings are the ones who saved you from Dad's wrath whenever you got late and kept your secrets- A SECRET. Be it fighting over the last spoon of Maggi or TV remote- we know, how much you miss being with your brother or sister and want to live those moments all over again. Those days are gone but your partner in crime is still there and you can have the adventure of a lifetime with them.
So why to waste more time? Escape to these amazing destinations that are perfect to celebrate Rakhi and have an amazing time with your siblings.
---
Goa
If I were to go with my sibling, then Goa will be on the top of the list. There is so much you can do apart from exploring beaches and enjoying the nightlife. Gear up from head to toe for scuba diving at Grande Island and experience the undersea life.  Embark on the Hot Air Ballooning adventure in South Goa and enjoy the mesmerizing view of Goa from the top.  Head to Bogmalo Beach which is famous for Snorkeling, witness the underwater world with your naked eyes.
Well, Goa isn't just about water sports- go for off road adventure activities like Quad Biking, there are many quad bike planners who offer quality bike ride. And yes, do not forget to click pictures of happy moments!
Ladakh
Imagine driving through the roads of Ladakh singing along to the tunes of your favorite music playing in the background and your brother or sister by your side- just like it is in movies. Sounds perfect! Isn't it? And when it comes to visiting Ladakh, there are a lot of things one can do. Visit Pangong Lake, a beautiful water reservoir and enjoy a drink amidst landscapes. Unveil the mystery of Magnetic Hill- The hill falls on the National Highway from Leh to Kargil to Baltik and it can pull any vehicle up to its steep slope with the ignition of the vehicle off. Amazing! no? One thing, you can not miss for sure is visiting umpteenth no. of monasteries.
Mail us at bookings@qacco.com to avail our fantastic package for Leh – Ladakh along with a perfect Itinerary.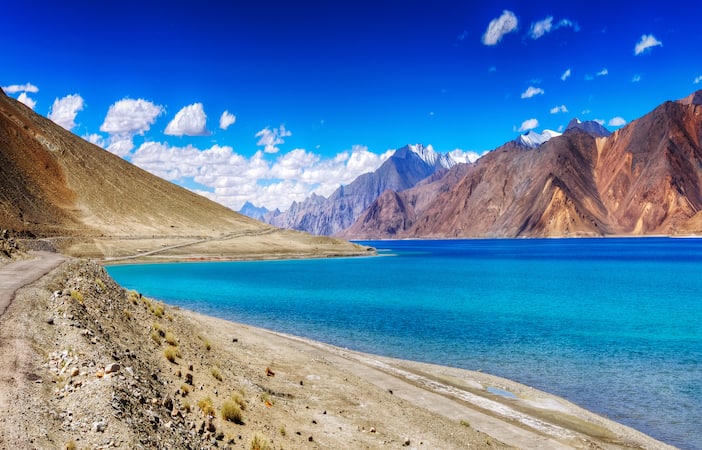 Rajasthan
If you and your siblings are nerds who have a keen interest in history, then there exists nothing better than Rajasthan. It has myriad of Forts that beautifully reflects the tales of the bygone era through their architecture. Watch the awe-aspiring sunset from the Bada Bagh Cenotaphs in Jaisalmer… the feeling is simply indescribable! Apart from visiting grandiose, one place you must head to is Jantar Mantar, Jaipur- the structure is honored as the World Heritage Site in India The lavish observatories have approximately 14 geometric devices that were used for measuring time, tracking constellations and observing the orbits around the sun. And last but not the least, you can not simply resist going Choki Dhani, Jaipur- a heaven for luxury seekers. This is where you will know what hospitality and royalty of Rajasthan really feels like.
Sikkim
Sikkim- nothing less than a paradise. It is one hell of destinations where you will find endless landscapes that are nothing but magic. If you and your sibling are someone who is looking to savor few days amidst nature- then it sure is the place to explore.
Trekking in Goecha La Trek is one amazing thing to do here. Each trek here is different from the next and the level of the trek is moderate that means even a novice trekker can complete it. Sikkim is birds paradise too, The Maenam Wildlife Sanctuary is popular for housing Satyr Tragopan, a rare species of pheasants found in Eastern Himalaya. Enjoy the Yark ride in Tsomgo Lake, famous for changing its appearance every season. In winters, the lake freezes and looks too impressive. 
Manali
Right from living in hills to trekking expeditions to scenic landscapes, Manali is the right choice for you to unwind yourself along with your sibling. There are so many activities that one can enjoy in Manali and when it comes to visiting Manali with siblings, ah! the list is endless. Explore the beauty from the top when you enjoy paragliding in the Solang Valley or roll down on the surface in a huge plastic ball, yes, we are talking about Zorbing.  And if you are religious enough, you cannot miss a hot sulphur bath at Manikaran. To rush your adrenaline, go for Rohtang pass where you can enjoy adventure activities such as skiing, paragliding, and trekking. 
---