Andaman- the most untouched, wild and serene destination in India. Tucked away from the hustle and bustle of main India, this island is like a treasure that most of the people have forgotten about.  When you are at Andaman, you get to experience little things that you almost forgot while coping up with this superfast world. Surf and play along with the tides of the beach- let crystal clear water touch your feet and then walk on the sparkling white sand leaving your footprints behind, make your way through the dense lush mangrove forest and fall in the lap of nature leaving everything behind.
Besides being an archipelago of 572 islands that boast of nothing but natural beauty, this place is a haven to enjoy adventure sports and water activities as well.  Read further to know what more this beautiful Island holds for you.
Havelock Island
Havelock Island is among the top beach destinations in Asia and one of the prized destinations in India. Havelock' s most popular beach is the Radhanagar Beach (Beach No.7) which was once rated as India's as Asia's fourth-best beach by Time Magazine. Watch Bioluminescence at Havelock Beach on moon nights, where water glows as you row your boat through them.
Diglipur or Baratang to witness Mud Volcanoes
One of the most unique things to do in Andaman is to visit the mud volcanoes. You can either head to Diglipur or Baratang to witness the active mud volcanoes. There are a series of small volcanoes that have been erupting mud for quite a few years now! You can actually see drainage of the mud that has made its own path down the valley.
Limestone Caves, Baratang Island
A must visit! A real feast for traveller's eyes…..the natural limestone caves. From Baratang island, it is half an hour boat ride through a wide creek which leads to Nayadera Jetty and from there, it will take a further one and half km. These caves are constantly growing and changing their shapes and sizes.
Ray Hill, Mayabunder
It is one of the newest eco-tourism destinations in Andamans that houses eco guesthouses and one can get engaged in the myriad of activities such as elephant safaris, wilderness trail, rock climbing etc..
Chidiya Tapu for Bird Watching
If you are a nature lover, the one thing you can not at all skip is bird watching in Andaman. Andaman is home to countless birds that come in all colors, shapes, and sizes. They are extremely beautiful and keeps on chirping. And this constant chirping of birds is melodious enough to entertain your mind and soul. If you are a wildlife photographer, this place is a cherry on the cake.
Little Andaman
You can never experience the Andaman in its truest sense until you have tasted this little slice of the paradise. You have to take a 10-hour ferry to get to little Andaman- sail through the exotic sea, watch dolphins dancing along with your ferry.
The island has only one road but innumerable paths that lead you to the amazing little paradise. One such paradise is Big Waterfall- to reach there; you need to ride through the dense forest.  Once you reach the big waterfall- you will be taken aback by the astonishing beauty.  Swim in the mesmerizing lagoon while you listen to the melodious sound of birds chirping. Visit the Kalapatthar beach and click some of the best pictures of your life. Just lose yourself to the wild nature and be where you are meant to be.
Cellular Jail
Historically known as kaala paani (black water), the jail was used by the British to imprison political prisoners. The most famous freedom fighter to be imprisoned here was V.D. Savarkar. This jail is one of the live examples that remind us of that particular period.
Scuba Diving and snorkeling
Andaman is the most sought destination for Scuba Diving. Some of the most famous scuba diving sites in Andaman include Havelock Islands, Neil Islands, etc. Have you ever imagined yourself exploring the world inside an ocean? Myriad of colorful fishes making their way to you and leave you awestruck by their astonishing colors.
Throw yourself into marine waters to explore the beautiful coral Bay of Bengal. Some of the most famous beaches and places in Andaman to go for snorkeling are Radhanagar Beach, Red Skin Island, Jolly Buoy Island, Neil Island, Elephant Beach and much more.
Mangrove Kayaking
The green mangrove of the Andaman comprises of 1/5th of India's Mangrove cover. Sea Kayaking is one of the most preferred activities in Andaman. Kayaking usually goes for 2.5 hours which means you get to spend and savor these 2.5 hours amidst lush greenery and tranquility environs. Listen to the birds chirping and enjoy the serenity as you cruise through the greenery.
Sea Walking
Sea walking is the newest activity that has been introduced in Andaman. Basically a haven for non-jumpers out there, this activity is a sheer bliss for those who want to discover the marine life but are afraid to try Scuba Diving.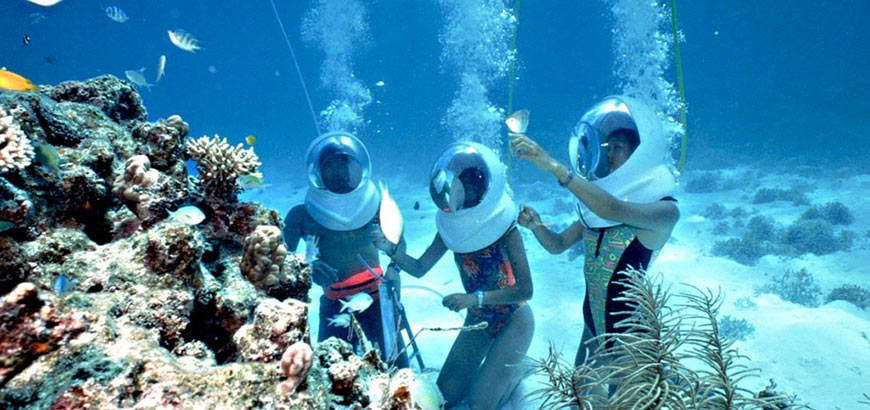 Glass Bottom Boating
If you are the one who is too afraid to dive into the crystal clear waters of Andaman, then there is another way to experience the underwater- Glass Bottom Boating. It is a boat with a transparent bottom where you get the chance to see the beautiful corals and marine life as you sail around the clear waters of Bay of Bengal.
Trekking
People believe, Andaman is not a place for trekking but Madhuban (20 km from Port Blair by ferry) proves them wrong. Clustered with indigenous flora and fauna, this place is an adventure seeker's delight. The route from Madhuban to Mount Harriet (the highest peak in the archipelago) is the most popular. The zig-zag ways, the wooden bridges, thick forest cover all around you, this trekking has to be on your bucket list.